By
Phyllis Johnson
In 1942 a young Jewish girl living in Amsterdam moved with her family into a tiny secret annex above her father's office. Over the next two years the young teenager and her family hid from the German Nazis in an unsuccessful attempt to wait out the war safe from the horrors of the concentration camps. Throughout her time in hiding, Anne recorded events of daily life, hopes, dreams and sheer frustration in her valued diary. After twenty-five months of hiding, the Frank family was discovered and sent to concentration camps where Anne would die of typhus at the age of fifteen, just two months before the end of World War II.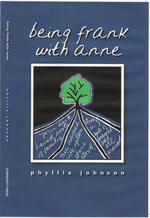 Published in 1947,
The Diary of Anne Frank
is one of the world's most read book and has captivated is audiences for generations. Rare is the young girl who cannot relate to some of the dreams and hopes that Anne writes of or the frustrations of growing up. Rare also is the one in this generation who can relate to and fully understand the horror of what the Franks were hiding from.
Phyllis Johnson's new book,
Being Frank With Anne
, attempts to put the contents of the famous diary into prose. Johnson strives, through her poetry, to bring a deeper emotional understanding of "Kitty" (as Anne fondly referred to the diary) to all her readers.
Each poem correlates with a dated entry in Anne's famous diary. Johnson's poems are dated in order that readers may cross-reference them with the diary. Johnson's poetry stands well on it's own. Readers can get a good understanding of what was going on in Anne's mind and world. It is when combined with the diary itself, read side by side, that the remarkability of what Johnson has done really sinks in.
The Diary of Anne Frank
is a historical work, read and loved by millions
.
Heralded by some as a strong reminder of the horror of the era as it humanizes the hunted Jews. Johnson has successfully attempted to bring this well known work to a much more emotional and personal level: to bring heart the reality of Anne's world and the consequences and toll that that reality took on a vibrant young lady.
This is not a "happy" book, but is yet a wonderful one, written in order "to honor Anne and her legacy of remembrance." The emotion, the anxiety, the wonder - readers will experience Anne's world in a way previously unknown. Johnson is to be applauded for the depth to which she leads her readers.
This review was submitted by Kristin Pace. Kristin is a wife and mother and founder of The Book-Trotter. She wrote her first review 20 years ago and has been reading and loving books ever since
.
Click to purchase
Being Frank With Anne